TELECARDIOLOGICAL PROJECTS

ONE INTERFACE SOFTWARE PLATFORM FOR THE MANAGEMENT OF THE PATIENTS' PACEMAKER OR IMPLANTABLE CARDIOVERTER-DEFIBRILLATOR (ICD) DATA
NEEDS and SOLUTIONS:
AIAC (Italian Association for Arrhythmia and Electrophysiology) "Consensus Document sul monitoraggio remoto dei dispositivi impiantabili: tecnologie disponibili, indicazioni, modelli organizzativi, accettabilità, responsabilità ed aspetti economici (2009) "


www.aiac.it/wp-content/uploads/2011/06/consensus.pdf

"Il monitoraggio remoto dei dispositivi impiantabili messo a punto da tutte le maggiori aziende produttrici può contribuire a facilitare e rendere più rapido ed efficace il follow-up di tali pazienti.
Il controllo remoto consente una continua raccolta di informazioni relative allo stato clinico del paziente, e tecniche relative allo stato di funzionamento del dispositivo, senza la presenza fisica dello stesso in ambulatorio. Non è da intendersi come un trattamento, ma come un diverso modo di organizzare l'assistenza.
I sistemi di monitoraggio remoto di IECD noti, indipendentemente dal periodo della loro introduzione ed il grado di sviluppo ed applicazione, hanno alcune caratteristiche comuni come la loro accessibilità tramite Internet.
E' logico pensare che, pur con qualche particolarità, funzionalmente i sistemi diverranno omogenei nelle prestazioni offerte. Invece, analogamente a quanto e´ storicamente avvenuto con i "programmatori", gli utilizzatori saranno obbligati ad avere, oltre ad almeno 5 sistemi, con caratteristiche particolari differenti, più d'un dispositivo per ciascuna casa produttrice con i problemi gestionali che ne derivano. Sarà pertanto importante poter identificare, nel prossimo futuro, almeno una modalità comune di rappresentazione dei dati, utilizzando un sistema standard per poter disporre dei dati nel modo più uniforme possibile.

"In the near future it will be important to identify, at minimum, a common way to present data by using a standardized system to have data in the most uniform possible way." (Trad. TMS)

SCOTTCARE CARDIOVASCULAR SOLUTIONS (USA) has made the OneView CRM software platform with one Web-based interface that answers all needs. The first European installation with TMS Telemedicine South Tyrol Srl  support is at an important Italian healthcare university center.
OneView CRM™
Patient Data Management
Patient- centered, device neutral, data management for cardiac implantable electronic device patients
OneView CRM provides:
Dramatic workflow improvement
The ability to easily care for, schedule and manage your patients
Access to all ICD, Pacer, ICM and ILR device specifications, settings, episode details and electrocardiograms
All reports, including data from implant registration, programmer, remote interrogation
One workflow that receives all device data in one place so you stop wasting time trying to manage multiple device websites
An intuitive, patient-centric interface that provides customizable query and reporting functionality: sort, trend, report
Web-based access that lets you manage your patients and their data from almost anywhere
Real-time, instant updates to lead and device libraries, as well as automated identification of patients impacted by device and lead recalls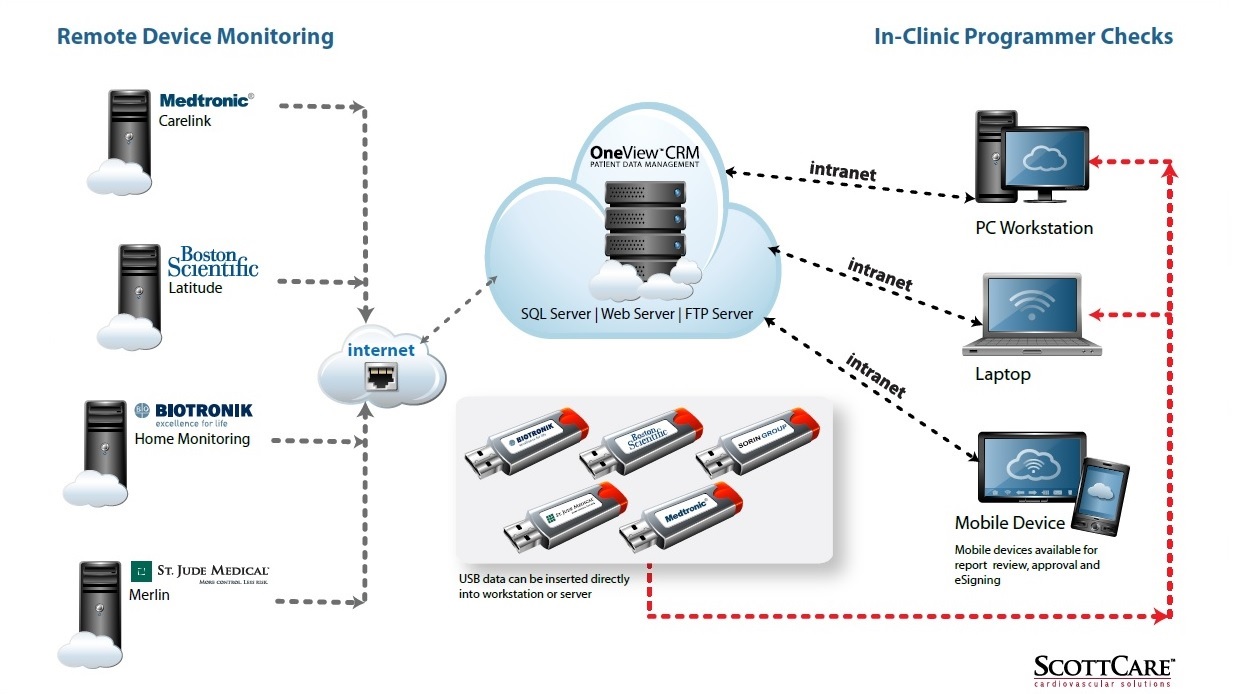 www.scottcare.com/oneview-crm-faqs